Travel memories
...
14/7 - 21/7 2012
8 days
Level:
Val d'Illiez is a small Swiss town at 1000 meters of altitude, near the French border and not far from Italy. It faces the impressive mountain range: Dents du Midi, which is one of the most famous silhouettes of the Alp. It can be seen from Lake Geneva and it's highest peak (Haute Cime) can be accessed from this valley.
We had fantastic weather all week and spent one night in a mountain hut hoping to get a chance to reach the peak of Dents du Midi the following morning. And so we did. The weather conditions were perfect and the scenery magnificent.
We took a day 'off', visited the Gorges du Trient and went for a boat trip on Lake Geneva.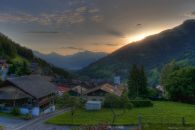 We flew from Gothenburg to Zurich. At the airport, we switched to the train that took us on a journey across the Swiss highlands and down to Lake Geneva. In Monthey we switched to a cogwheel train that took us up to our village Val d'Illiez, in the valley with the same name.
DAY 2

15 Jul 2012

Les Crosets - Morgins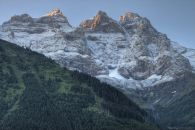 Our first hiking day began with wind, rain and snow. We took the bus at 09:15 to Les Crosets (1670 m). It rained heavily and at first we hesitated, but finally we chose to give it a try. First up towards the Portes de l'Hiver (2099 m), then down to Lac Vert (1972 m) to the French border on the pass Col de Chésery (2144 m). The weather slowly improved and the sun began to show its best after the coffee break on a meadow overlooking the valley. We turned east, along the white water of Vièze the Morgins and down to Morgins (1333 m) where we took the bus and train back to our village.
Waypoint
Altitude
Distance
Les Crosets
1670 m
0.0 km
Portes de l'Hiver
2097 m
0.0 km
Lac Vert
1985 m
0.0 km
Col de Chesery
2144 m
0.0 km
Morgins
1333 m
0.0 km
Summary
Highest point
2144 m
Ascent
586 m
Descent
923 m
Distance
DAY 3

16 Jul 2012

Bourg St.Pierre - Ferret
We set out with the 7:10 train down to the Rhône valley via Monthey and on to Martigny. There, we took the bus up through the beautiful Val d'Entremont to Bourg St.Pierre (1689 m) where we arrived at 09:10. We walked the road south along the tunnel of Grand St.Bernhard, towards Italy, to the Lac de Toules where the climb steepened up to Chaux de Planards. We walked over the meadows past small alpine meres to Gouille du Dragon (2618 m). The terrain was very rugged and quite tough but we continued up to the Pointe des Planards (2873 m). The trail markers disappeared and we had to improvise through snow, gravel and over boulders down to the pass Col du Neve de la Rousse (2752 m). There, the trail was marked again and we could dance down just over 1000 meters of altitude in the evening sun to Ferret where we found an inn where we could get some rest and something to drink. Finally, we took the bus and train back to the village where we arrived at 22:35. It was a full day in the Alps with a strong sun all day long.
Waypoint
Altitude
Distance
Bourg St.Pierre
1632 m
0.0 km
Lac des Toules
1810 m
0.0 km
Combe des Planards
2951 m
0.0 km
Ferret
1600 m
0.0 km
Summary
Highest point
2951 m
Ascent
1319 m
Descent
1351 m
Distance
DAY 4

17 Jul 2012

Champéry - Cabane de Susanfe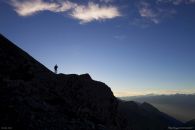 Paul, Eric and Bengt-Erik took off on a two-day adventure with an overnight stay in a mountain hut. The other five stayed in the valley to enjoy the thermal baths and walks in the surrounding areas. The first three took the train to Champéry (1053 m) and began a hike up through the valley, along the La Saufla through steep forest terrain to Rossetan (1444 m). There the landscape opened up and a seemingly impossible appeared. It went through several batches, with wires attached to the rock walls to help us stay alive. We finally reached Cabane de Susanfe (2102 m) around 16:30 and got to enjoy a fantastic afternoon and evening as the sun set over the mountains. Then dinner time together with other hikers from all over the world. And then finally bed time to save some energy for the next morning and day.
Waypoint
Altitude
Distance
Champéry
1055 m
0.0 km
Rossetan
1500 m
0.0 km
Cabane de Susanfe
2102 m
0.0 km
Summary
Highest point
2102 m
Ascent
1047 m
Descent
0 m
Distance
DAY 5

18 Jul 2012

Cabane de Susanfe - Salvan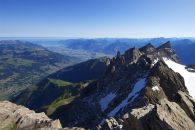 This day was the highlight in more ways than one, at least for the three who were heading for the top of Dents du Midi. Paul woke up 03:42 and woke Erik and Bengt-Erik. We had breakfast wearing a headlamp, because no one could find the light switch in the darkness. We were ready and on our way 04:38, towards the pass Col de Susanfe (2494 m). It was a beautiful morning with perfect hiking weather and a magnificent panorama of the Italian, French and Swiss Alps. Mont Blanc slowly appeared as we gained altitude. The path was not always easy to find and some parts were extremely steep. The top of the Dents du Midi - Haute Cime (3254 m) - was reached at 9:10 and we were first there this morning. And that was not so strange. Only half an hour later we were joined and then it was time to turn down the lake (1925 m) and further down along a rocky path to Salvan (934 m) where we took the train from Chamonix to Martigny. It was 31 degrees Celsius on the train station. The day ended at 22 and is one of the longest hiking days so far.
Waypoint
Altitude
Distance
Cabane de Susanfe
2102 m
0.0 km
Col de Susanfe
2494 m
0.0 km
Dents du Midi
3257 m
0.0 km
Lac de Salanfe
1925 m
0.0 km
Salvan
912 m
0.0 km
Summary
Highest point
3257 m
Ascent
1155 m
Descent
2345 m
Distance
DAY 6

19 Jul 2012

Val d'Illiez - Champéry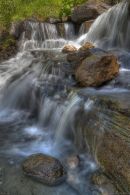 The plan was to take a little more strenuous way to Champéry than the shortest. The lead us up to Soi (1600 m) and further up to the beautifully situated small lakes Lacs d'Antème (2032 m). The clouds thickened but the sun dominated and the temperature was very pleasant. We had Dents du Midi watching over us all day and finally took the train back from Champery to our village
Waypoint
Altitude
Distance
Val d'Illiez
948 m
0.0 km
Lacs d'Antème
2032 m
0.0 km
Champéry
1055 m
0.0 km
Summary
Highest point
2032 m
Ascent
1084 m
Descent
977 m
Distance
The last active of the week was a day of rest. Everyone was happy and quite tired so instead of hiking we took the train down to the Gorges du Trient, a ravine in the Rhone valley fed by water from the Mont Blanc massif. We were impressed by how the water had cut through the mountain over thousands of years. Then we went on to Martigny where we shopped and had lunch. Then we went back and further on, to Lake Geneva. We stayed in beautiful Vevey and spent a couple of hours there before we took the boat across the lake to Bouveret, where we had coffee and enjoyed the afternoon sun. Then finally back on the train and up to our village for the last night in our nice house.
The last day, and it was time to go home, by train and flight back to Sweden.