Are these hiking tours for me?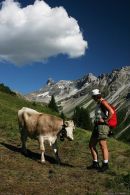 The tours are always carefully planned. There are always shortcuts to take and opportunities to shorten the tours by using the cable cars, trains or buses. No one has to be exposed to great physical trials. And everyone gets the chance to get used to the conditions, because the level of effort increases a bit, day by day.
Furthermore the plans will be changed according to the group's wishes. We are not going to the Alps for a week to win races or to set records. We are going there to enjoy ourselves.
But it is true after all that we are normally outdoors between 8 AM and 5 PM every day. We hike an average of 10 km (6 miles) each day. We reach an average height of 2000 meters (6000 ft) and the difference in altitude is an average of 800 meters (2500 ft) each day. But again - you can minimize the effort, for example by means of cable cars. In addition, all participants will own a region card which can be used on buses, trains and boats in the region. That way you will never feel stranded if you want to take a day off.
It is also true that you should not suffer from vertigo because the environments re truly breathtaking. We may cross some areas of snow and we may pass through ravines. But we do not leave marked trails. These are always well maintained in the Alps because the trails are very important for tourism.
Flexibility is the key feature of Sirugo Tours hiking tours. And it seems that this way of taking care of the participants has been successful over the years. Nearly 70% of the 20 who have signed up for next years tours have been with us before. For some of them, next year will be their fifth.