Night hiking
The Alps are beautiful in daylight, there is no doubt. There are an infinite number of amazing vantage points to enjoy and you have to spend a lifetime even if you will be trying to reach only a fraction of them. But there are other levels of aliopne hiking - the nights and the sunsets.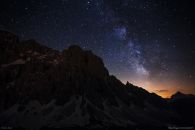 Under a cloud free sky the stars and galaxies turn into fireworks, because there is almost no backlight that interferes. Moreover, the sight is often clear in many directions. And if you are at high altitude, you can get to enjoy a 360 degree panorama in three dimensions. It is of course an experience that is impossible to describe with words.
At five o'clock (in the summer) the horizon starts to shift to yellow. The sun is on its way up and if there was no wind at night, you can feel the air as it starts to move. You can see the ground below and you will see clear silhouettes of rock formations. At about 2000 meters altitude, the temperature is usually around 10C (50F). At about six the first peaks become painted by golden sunrays. This is the highlight of the morning and perhaps the highlight of the day. It can be difficult to know exactly where the sun disk first will appear and it is quite exciting trying to figure it out.
Then, it only takes a quarter of an hour or two until the sun is high and strong enough to warm you up. It is a great feeling to get start the day this way.
Therefore Sirugo Tours offers a short night hike and/or sunrise hike at least once on every hiking tour. If you are interested in photography you also get the opportunity to take part in a course in night photography. The SLR camera of today have the capacity to capture faint objects that are not even visible to our eyes, which leads to eyebrowraising results.
Of course you can choose stay in bed in the morning.